St Thomas Aquinas High School
Class Of 1974 BDC (Best Damn Class!)
ANNOUNCEMENTS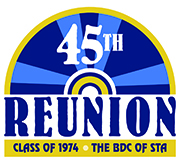 Dear Classmate,
Our 45th reunion is just a few weeks away and a planning committee has put together an amazing weekend of fun, food and fellowship. Please come to reunite with friends, classmates and beloved teachers and take part in some nostalgic surprises as we all commemorate this milestone.
The weekend's activities include:
FRIDAY, JUNE 28: 6:30 PM - Informal icebreaker at Good Spirits Fifth and Fed.
SATURDAY, JUNE 29: 6:30 PM - Casual cocktails and dinner at the host location, Lago Mar Beach Resort & Club.
SUNDAY, JUNE 30: 8:30 AM Morning at Mass St. Sebastian Catholic Church (2000 Marietta Dr, Fort Lauderdale, FL 33316) and/or Liturgy of the Word Service at 9:45 AM at Lago Mar Beach followed by brunch (on your own).
Sister John Norton will be joining us for the festivitied!
The committee is putting together a few Saturday daytime recreation options to help bring old friends together. Or, you can just hang out around the Lago Mar lagoon pool and private beach adjacent to Port Everglades where you will continually bump into classmates and their families to share stories and memories. And, of course, our Hospitality Suite will be back for late-night social gatherings.
The Lago Mar Beach Resort & Club has been our quintessential reunion host offering stately guest rooms (if you need one) in a tropical setting surrounded by exceptional hospitality. It's the perfect place to enjoy an ultimate South Florida experience plus it's close to the airport with easy access to all Fort Lauderdale's attractions
The committee has worked hard to offer a memorable and cost-conscious event. We hope to see you at our 45th class reunion!
Registration information and payment can be done at the 45th Reunion page link.
Special Note: Early Bird Registration has now closed.
Donations
All event costs include a gift of $19.74 to St. Thomas Aquinas High School.
Would you like to help underwrite the cost of the reunion? Your donation will help enhance the reunion weekend as well as increase our gift to the school. You may make a donation during the registration checkout process.
Lago Mar Room Reservations
We have reserved a block of rooms at the Lago Mar at a special group rate of $185 per night. Rooms are subject to additional hotel taxes. Please contact Lago Mar at 954-523-6511 to reserve your "St Thomas Aquinas Class of 1974" room.
Best wishes, the STA74 BDC Reunion Committee
If you have any questions or additional information please contact Bernie Contreras via email at stthomasaquinas1974bdc@gmail.com
------------------------------------------------------------------------
Welcome to your St. Thomas Aquinas, Class of 1974 (Best Damn Class!) home on the internet.
We hope this site will be -
A source of information on pending reunions and activities
A way to get and stay in touch with your old friends and classmates
If this is your first visit to your website, please take a few minutes to set up your profile, update your contact information and familiarize yourself with the layout and content. Many questions that you might have will be answered in the FAQ-How To Use Site section.
Membership to our STA74 BDC website is limited to our classmates, faculty and administration is by invitation only. It is not open to the general public. Classmates can individually determine whether their profile information is public, or viewable only by registered classmates. Your personal information is confidential and private and will never be shared with anyone without your permission.
Email notifications from this web site: please add siteadmin@stthomasaquinas74bdc.com to your address book and adjust your spam settings and filters so that you can receive email from the website, otherwise email from the website will likely end up in your junk or spam folder.
Be sure to visit to the FAQ-How To Use Site to familiarize yourself with the site. If you have any questions, be sure to contact us.